Motorola CLIQ XT & Nokia Nuron headed to Best Buy - along with good prices?
2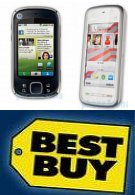 Best Buy may be the place to pick up yourself some of the hottest phones expected to arrive in the near future. After hearing about all the pre-orders they're doing with the Motorola DEVOUR and BACKFLIP, we're even impressed if the big box retailer goes through with their plans on aggressively tightening the prices on those handsets. Now we're hearing from one of our tipsters that the Motorola CLIQ XT and Nokia Nuron are both bound for the consumer electronics giant – those two handsets are looking to be accompanied with some eye catching prices as well. Looking into the expected pricing structures for both handsets, the Motorola CLIQ XT is speculated to go for $99.99 on a two year contract for new customers aiming to get their hands on the QWERTY-less handset. One thing to point out a little bit strange is the noticeable price for customers performing an upgrade – it's going for less at $69.99. On the other hand, Nokia may not have a strong presence aside from dominating mostly the entry level segment in the US, but the Nokia Nuron is looking to sport a mind boggling price of $29.99 with your signature on a 2 year agreement. Still, there is no indication when these two devices plan on making their appearance in stores. Nonetheless, these prices are only tentative and could possibly change in the future – let's cross our fingers and hope that the big box retailer keeps them steady as it is now.
Nokia 5230 Nuron Preliminary Specifications
Motorola CLIQ XT Specifications
Thanks to our anonymous tipster!!