Motorola CHARM will also feature UMA calling?
This article contains unofficial information.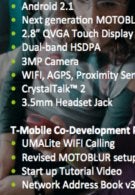 As we continue to see more carriers roll out femtocells to their customers which provide for an adequate connection to their network, T-Mobile customers have been able to rely on UMA calling on a few handsets – something that doesn't require additional hardware. Naturally there are going to be people out there excited about the Motorola CHARM's form factor since it's not prevalent among existing handsets, but there was a leaked internal slide that hinted to the reality of UMA calling being featured on the upcoming Android smartphone. For those who aren't familiar with it, UMA enabled phones can basically connect to any Wi-Fi network and route phone calls through it – so if you have insufficient T-Mobile network coverage, you can connect to a Wi-Fi network and still be able to receive phone calls. Although it's not known what "UMALite" exactly is, the slide definitely hints to the reality of UMA calling coming with the Motorola CHARM – which is just another nice feature added to this handset. Ultimately, it would be marked as the first Android handset to offer the functionality.
Motorola CHARM Specifications
source:
TmoNews