Moto X custom engraving won't be available at launch
8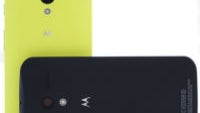 One of the biggest selling points of the upcoming Motorola Moto X is the Moto Maker tool, which allows you to customize your device by choosing colors for the back plate, front plate, and accents, as well as wallpapers, and custom engravings. But, that last one is in a bit of trouble right now, and it apparently won't be made available for the device launch.
According to
ComputerWorld
's J.R. Raphael:
Custom engraving won't be available on the Moto X at launch. During beta testing, the company determined the quality of the printing wasn't meeting its standards and decided to pull the plug on it for now.
So far, there is no word on when the engraving will make a comeback, but Motorola apparently hopes it will be "soon". There is also no word on whether or not this has anything to do with the list of banned words in the Moto Maker blacklist. If you hadn't heard, early testers have reported that the Moto Maker tool will not allow you to use words like "Apple", "Samsung", "Google", or "DROID". But, the tool had no problems with words like "iOS", "iPhone", or "Facebook".
Curious, indeed. We'll let you know more when we find out.