Moto Maker getting full setup at Best Buys
8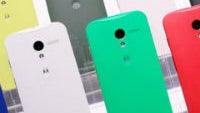 A couple weeks ago we let you know that Best Buy was prepping to bring the
Moto Maker experience
to its retail stores, and it looks like the displays are quietly being set up at various Best Buy stores around the country. We have gotten a couple of tips on the setups, and now we even have some pictures and info on what exactly will be offered.
We already knew that Best Buy locations would be selling the Moto Maker redemption cards for AT&T models of the Moto X (other carriers are still not on the Moto Maker software). Now, we're seeing a full display setup which also includes samples of the backplate in various colors, as well as a tablet in order to help customers design and order their own Moto X right then and there.
The display does reflect the new Moto X price drop, so a new Moto X will cost $99 for the 16GB model and $149 for the 32GB model with a two-year contract on AT&T. The rumors have said that the Moto Maker software will be breaking free of the AT&T exclusivity sometime in
November
, but we haven't heard anything recently on that. Frankly, we don't care much about the on-contract price drop; we'd rather see a price drop on the unlocked version of the device.
Thanks to
Sniggly
for the pics!