MorePhone is a flexible smartphone that curls up when it receives a call
5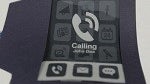 Imagination is only limited by what can physically be accomplished at any one time, and a group of researchers at Queen's University in Kingston, Ontario, Canada have been hard at work looking at new ways that flexible phones may shape the future.
The Human Media Lab at Queen's University is the same crew that developed the
PaperPhone
in 2011, and the
PaperTab
earlier this year.
The MorePhone is a phone that morphs (see what they did there) its shape when a notification is received. This could be a handy way to receive notifications or calls when a vibration may not be felt, and an on-screen notification may be overlooked. One would certainly notice their smartphone if it started contorting itself on the desk or crinkling itself up in a pocket.
The flexible electrophoretic display is manufactured by Plastic Logic, based out of the UK. Beneath the display are shape memory alloy wires that contract to provide a physical notification. Dr. Vertegaal, Director of the Human Media Lab, thinks this technology will find its way in the hands of consumers in five to ten years. Check out the photos and video below.
sources:
Queen's University
via
CNET