Paper or Plastic Logic? Flexible 10.7" PaperTab slate gets previewed
18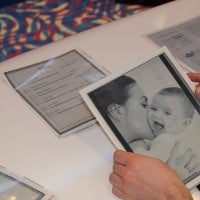 That
dreamy bending tablet from Samsung's futuristic ad a while ago
just got a whole lot closer, but not by Samsung at all. Developed in cooperation with Intel for the Core i5 processing power, Plastic Logic and Queens's University previewed the
PaperTab
- a flexible e-paper tablet with high-res 10.7" display.
The whole concept of bendy plastic touchscreen and body, however, doesn't just serve the durability gods, but rather introduces brand new ways of interaction with your tablet. You can bend the corner to flip through a page in a magazine stored in the slate, or bump one PaperTab showing a photo to another showing an email draft and attach, then send the email with the photo by placing the PaperTab in an outgoing mail tray.
Possibilities are endless when you have flexible plastic, instead of rigid glass displays, but the PaperTab is best explained in pictures and video, which you can see below. The bendy project will be announced officially tomorrow at CES, so keep yourself glued here for more info on this new way for us humanoids to interact with technology.