More analysts say Apple and AT&T will extend exclusivity through 2011
13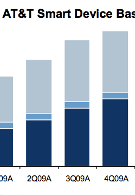 Last week, we
reported
that Credit Suisse analyst Jonathon Chaplin was telling his clients that Apple was going to extend its exclusivity deal with the iPhone with AT&T through 2011. Today, two more Wall Street stock jocks told their clients the same thing. Vijay Jayant, an analyst with Barclay's Capital, noted how Apple had AT&T's back during the great commercial wars of 2009 with Verizon. And after Apple made AT&T the initial provider of 3G for the iPad, it would appear that any tears in the relationship between the two companies has been repaired. Jayant told clients, ""(The) launch of Apple's iPad on AT&T's network is a vote ofconfidence in AT&T's network by the equipment maker. While iPad sales are unlikely to materially impact wireless revenuesin the short term, selecting AT&T to launch its second majorcommunications product reflects Apple's bias for the global GSMplatform and the prospects of AT&T's network capability. Moreover,it could suggest the iPhone exclusivity may continue, at least throughthe end of 2010."
Pacific Crest analyst Steve Clement agreed with all of the above arguments, and added that the carrier's decision to increase capital expenditures this year could be a sign that AT&T will be increasing bandwidth capacity to make sure that it can keep up with the growing sales of the iPhone as an AT&T exclusive in the U.S. Additionally, AT&T's guidance to analysts for second half wireless profit margins did not rise as would be the case if AT&T were to lose the iPhone exclusivity in the second half of 2010.
Barclay's estimates that the iPhone is 47% of AT&T's smartphone base which means that the Apple touchscreen device represents a lot of cash for the operator and is a very important part of the carrier's business. And while Barclay's and Credit Suisse both feel that keeping the iPhone exclusivity is a coup for AT&T allowing them to use the cash flow to fix the network problems that have haunted it, both see other U.S. carriers offering the handset possibly as soon as 2011.
Apple iPhone 3GS Specifications
|
Review
source:
AppleInsider