Mophie Juice Pack Air for the iPhone 4 Hands-on
3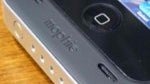 One of the biggest factors in building faster and more complex processors for use in mobile phones is the limit of today's existing battery technology. Sure we're seeing more efficient processors being created specifically to optimize the mobile experience, but it all comes down to working around with battery life. Enter Mophie, creators of some popular handset accessories, as we had some time in checking out their Juice Pack Air combination case and battery accessory for the iPhone 4. Currently going for selling price of $79.95, some iPhone owners might find it appealing since it offers two convenient items into one simple accessory.
Naked without anything clinging onto it, the iPhone 4 exhibits one of the most sleek looking designs out there, but placing it into Mophie's Juice Pack Air case easily balloons it to HTC EVO 4G and Motorola DROID X like sizes. Gone is the streamlined look, but when you increase its battery life, it's just one of the compromises you'll have to make in siding with it. Gladly, we like how the case feels super sturdy as it encases the handset snug, while its soft touch coating will repel any dirt and grim that come into contact with it. Sure it's a little bit bulky, but the case feels well constructed in dealing with some the minor bumps and bruises along the way.
Since the Juice Air Pack contains a 1,500 mAh lithium polymer battery, it's more than equipped in offering double the battery life to the iPhone 4. There's a switch near the bottom left corner that activates the charging of the handset – and from what we experienced, it manages to fully charge the handset back to 100% from an initial 20% mark. If you're curious to know how much juice is left with the case, there is a button you can press on the bottom which will light up the 4 LEDs to the level it's at. Furthermore, you simply charge the case via its microUSB port on the right side – which will even charge the iPhone 4 at the same time and enables you to sync it with iTunes.
In the end, Mophie's Juice Air Pack is an ideal companion to any iPhone 4 owner who is heavy on doing a myriad of items with their handset. And yes, it manages to not only protect the handset, but it'll even provide double the battery life. Compromises aside, it's definitely an appealing option for those looking to kill two bird with one stone – even at its $80 price point.