Switching from iPhone to Android? This useful tool can transfer all your data
8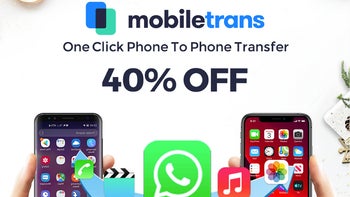 Advertorial by MobileTrans: the opinions expressed in this story may not reflect the positions of PhoneArena!
Our smartphones contain tons of valuable personal information, from pictures that we've accumulated over time to notes we've written to remind ourselves to read a good book or watch an interesting documentary. The more we use a phone, the more personal it gets, and eventually, you get this cozy feeling as if you're home when using it.
That's what makes switching phones an experience most people dread. And no one knows this better than us, phone reviewers. We have to switch phones multiple times a year, and while everyone has their way of going about it, there's always the hassle of moving data back and forth.
That's where Wondershare comes in with its MobileTrans software solutions. Divided into four separate products, the MobileTrans family offers features that even phone makers and app developers don't have. What's even better is there's a
Christmas sale right now, with discounts as high as 40%
! But before we get into the details of the deal, let's take a quick look at what MobileTrans software does.
Phone Transfer, WhatsApp Transfer, Backup and Restore, everything you could need
Phone Transfer
allows you to transfer up to 15 types of data, from photos and videos to voice memos and even your wallpaper, between two devices. There are some limitations of the data types, depending on the operating systems of the devices involved. You can find details about what can be moved and what can't on the
MobileTrans website
.
WhatsApp Transfer
does, well, what the name suggests. It transfers your WhatsApp chat history and files between phones. Yes, WhatsApp has a built-in backup feature but it doesn't work if you're jumping from one OS to another. With WhatsApp Transfer. you can switch from iPhone to Android or vice versa and have everything just the way you left it. The software also works with Kik, LINE, Viber and WeChat, covering the needs of billions of users.
Lastly,
MobileTrans Backup
and
MobileTrans Restore
let you create backups of your devices to your computer and then restore them to either the same or other devices. With Restore, you can also use backups already created using iTunes.
The process each software takes you through is explained with easy to follow step-by-step guides with pictures. Even if you're not tech savvy, you'll be able to complete the job in no time. Check the video below to see for yourself:
You can buy each product individually or all four as a packaged deal and now you can get discounts for both options.
Get up to 40% off on everything during the Christmas and New Year's sale
For this holiday season, Wondershare has prepared something special for its customers. From December 18 to January 15th, the company's Christmas and New Year's sale lets you get any MobileTrans product with up to 40% discount. This means you can get a one-year license for individual products like Phone Transfer or WhatsApp Transfer for $17.97 instead of $29.95 or for all four products for only $23.97 instead of $39.95.
If you're the type of user that frequently moves between Android and iOS, the MobileTrans solutions will be an invaluable tool for your smartphone data management. And with these Christmas deals, now is a great time to get your hands on a license from the link below: