Mobile penetration in Africa is now at 80% and growing fast
9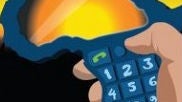 As we have been saying for quite a while, and as we have been seeing more recently, emerging markets are the next big battle fields for mobile handset makers. The high-end markets in North America, Europe and Asia have essentially stabilized, but there are still huge sections of the world where mobile phones are not yet ubiquitous, let alone smartphones. One region where that is quickly changing is Africa.
A new report by TA Telecom says that mobile penetration on the African continent has reached 80%, and is still the fastest growing region in the world. That means 8 out of 10 Africans have a mobile phone, which adds up to approximately 802.4 million people. After Asia, Africa is the second largest market in the world.
Of course, the majority of mobile devices on the continent are still feature phones, and the majority of wireless networks are 2G, meaning voice and SMS only. According to the data, about 63% of mobile connections in Africa are only 2G, while about 26% are 2.5G (EDGE) which adds low-speed data, and just 11% are 3G connections.
Companies like Google have
worked
to make as many services as possible accessible through SMS, and to find ways to increase high-speed mobile data across the continent. As those networks are built out, the move to smartphones will undoubtedly begin speeding up considerably.