Mobile data volumes doubled once again in 2012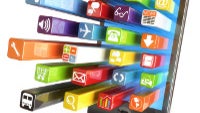 Come to think about it, we've gotten used to a lot of wonderful things in 2012 that weren't possible at all before. One of those wondrous new advancements in mobile technology is 4G LTE cellular data that is now something we take for granted.
It becomes especially interesting when we look at the numbers. Turns out, mobile data volumes actually doubled again in 2012.
This happened not just because of 4G LTE. The other huge event that spurred mobile data growth is the jump in smartphone subscribers in China. The data comes from network equipment manufacturer Ericsson and compares mobile data usage in Q4 2011 and Q4 2012.
Subscriptions for mobile broadband also increased by some 50% year-on-year, so now there are over 4.4 billion mobile subscribers and a total of 6.3 billion subscriptions. Again that huge growth came from developing populous countries like China and India. And while smartphones are only starting to become huge, it's worth remembering that they account for only 15% to 20% of the overall installed base with the rest being feature phones.
source:
GigaOM