Mobile data traffic to exceed 107 exabytes in 2017; what the (bleep) is an exabyte?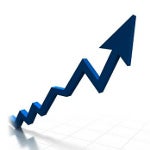 According to a new research by ABI Research, all mobile data traffic generated worldwide is going to exceed the mind-blowing number of 107 exabytes in 2017. Apparently, this happens to be about 8 times more than the amount expected to be reached this year.
For the few of you who aren't sure how much an exabyte is, it equals 1 million terabytes, or 1 billion gigabytes, which is a lot of (shared) data. However, ABI analyst Aapo Markkanen is quick to note that this shouldn't be seen as too much of a concern for mobile carriers. According to Markkanen, 2015 will be the last year when global data traffic is going to grow by more than 50%, which means that the unprecedented growth we're witnessing today is finally going to start slowing down.
"It looks like 2015 will be the last year when the traffic volume will grow by more than 50 per cent annually. And that will happen despite of the fact that the monthly average per wireless subscriber, worldwide, will increase to almost 1.5 gigabytes by the end of our forecasting period."
Of course, it's possible that some carriers might attempt to make a really big deal out of those exabytes, as they try to acquire each other, but here's to hoping that the regulators will do their job and make sure that it's the consumers who win at the end.
via:
IntoMobile