Microsoft will retire Wunderlist, once To-Do is good enough
2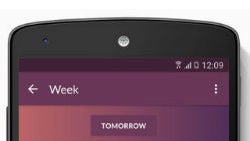 As you might know if you've been following our page, Microsoft has released a new to-do list app, called...
To-Do
... they didn't try to hard on that, obviously. The app itself is relatively bare bones right now aside from an interesting Smart Suggest feature, but Microsoft has the team behind Wunderlist working hard on the app, which might make some curious about the fate of Wunderlist itself.
According to Microsoft, the Wunderlist team will continue to add popular features from Wunderlist to To-Do, including list sharing, but eventually Wunderlist will be retired. Specifically, Microsoft said, "Once we are confident that we have incorporated the best of Wunderlist into To-Do, we will retire Wunderlist." There was no timeline given, nor exactly what features or even how many of the features from Wunderlist would make it into To-Do, though.
Wunderlist is an incredibly full-featured app that is beloved by many and has been one of the best to-do apps on the market for a while. But, Microsoft did buy the company and the team behind Wunderlist, and apparently, Microsoft thinks it is a better idea to have the team build a new app from scratch rather than continue to improve upon Wunderlist. Given how limited the functionality is in To-Do right now, we'd say there's a good amount of time before Wunderlist is officially retured, but we can't say for sure.
We'd hope that at the very least, once Microsoft does get To-Do to where it wants it to be, there will be some sort of option for remaining Wunderlist users to transition smoothly to To-Do. In the meantime, if you're a Wunderlist user, what's your plan? Will to move to a
different to-do app
now or wait to see what Microsoft does with To-Do?