Microsoft shows the power of IE9 in Mango using another proprietary test
11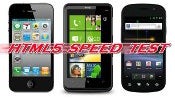 One of the few lessons from high school that has stuck with me until today is when my math teacher said, "When someone opens with the phrase 'Statistics say...' they are about to lie to you." That same sentiment can easily be applied to the browser wars. If someone starts by saying, "The browser tests show..." it's a pretty high likelihood that whatever follows isn't necessarily honest. That said, the news: Microsoft has a new video showing off IE9 in Windows Phone 7 Mango trouncing BlackBerry, iOS, and Android in the now famous fish bowl test.
Of course, the fish bowl test was created by Microsoft, so it's tough to take the test seriously. Much like when people point to the Acid3 test on which almost no browsers have received a perfect score other than Opera. Why? Because Opera made the test. But, aside from creating the test, Microsoft was pretty fair in the setup.
Microsoft pitted a BlackBerry Torch against a DROID Charge, an iPhone 4 running iOS 5 beta 3, and what looks like an HTC HD7 running WP7 Mango. It's nice that at least the hardware is about on par. And, it's nice that they used iOS 5, although it seems that they could have grabbed a Gingerbread Android phone just to have the newest software all around.
Enjoy the video!
source:
WMPU