Microsoft roadmap also shows "common app platform with Windows"
7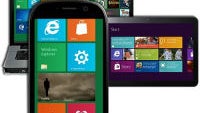 Yesterday, we brought you the
Microsoft roadmap
that was tweeted out by ZDNet's Mary Jo Foley, and we told you that it had quite a bit of "innovation" planned for the Surface tablet, which appeared on the roadmap four times. But, there was a small note at the very end of the roadmap that we missed at first that says there will be a "common app platform with Windows".
This is a big one that Windows Phone users have been waiting for. This is the promise that Microsoft laid out when it first announced Windows Phone 8 with the "
shared core
" between the mobile platform and its desktop cousin, Windows 8 (and the bastard child, Windows RT). Apps have always been the one thing about the Windows Phone platform that detractors could point to and say that it wasn't up to the competition, but finally converging Windows Phone with desktop and allowing developers to build once and run on all devices (the secret sauce that
Ubuntu has been promising
), that is a huge change, and one that we really hope comes around.
Of course, we can't say for sure that Microsoft will set up a "build once, run everywhere" process for developers, but that's what we would hope for. It is also possible that Windows Phone apps would be able to run as widgets on a desktop or tablet, but that doesn't really help get more apps on Windows Phone. The feature is at the very end of the roadmap, which would put it around June 2014, so don't expect this anytime soon.