Microsoft patent application shows metallic Surface Phone body doubling as the antenna
10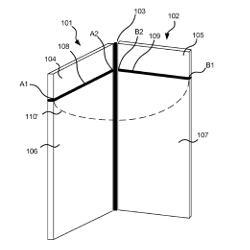 Since the beginning of the year, we have seen a few Microsoft patent applications that were said to
feature the mythical Surface Phone
. The latest such patent application was published on Thursday, even though it had been filed with the USPTO back in February 2016. The patent, entitled "Cover of Device Acting as Antenna of the Device" shows a metallic built handset. As the title of the patent suggests, the metallic cover doubles as the antenna.
Because the handset would apparently swing around a hinge positioned in the center of the device, users would not cause interference or the "detuning" that happens when their hands touch the antenna while in the process of using the handset. When this "detuning" occurs, signal strength dominoes downward and corporate chieftains complain that consumers are holding their phones incorrectly.
The man behind the patent application, Antti Karilainen, is an antenna and RF expert who has worked on a few antenna and mobile based projects at Microsoft. One revolved around the use of different mobile antennas for future form factors.
While any Surface Phone has been subject to radio silence out of Redmond, the patent applications are telling a different story. Some believe that if there is a Surface Phone on the horizon, we might not see it unveiled until late 2018-early 2019.
Microsoft patent application shows metallic cover from foldable Surface Phone moonlighting as the antenna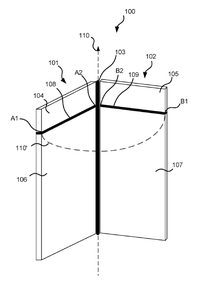 source:
WIPO
via
MSPoweruser