Microsoft is giving away a Surface Pro 3 in this 24-hour contest (US only)
5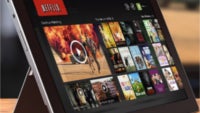 Apparently, September 17th is National Backpack Awareness Day in the US. Founded by the American Occupational Therapy Association, it means to raise awareness around how lugging around a heavy backpack could have a negative impact on our health (who would've figured?).
Microsoft has taken the opportunity to point out that the new
Surface Pro 3
tablet is a device that is relatively light-weight, yet combines the
portability of a tablet with the productivity of a laptop
. To celebrate the Backpack Awareness Day, Microsoft is holding a contest, dubbed "Lighten my Load", with the grand prize being a single unit of its flagship tablet.
In order to enter, one must take a creative picture that illustrates why they need to lighten their load and post it to Facebook and/or Twitter with the hashtags #LightenMyLoad, #SurfacePro3, and #Contest. In order to be eligible, contestants need to like/follow the Surface's page on their social site of choice (linked below). The pictures will be judged by three different criteria, with the final score being determined 25% by originality, 50% by adherence to contest theme, and 25% by composition.
The contest is limited to USA residents only. Of course, there is a certain set of rules to follow. For example – no matter how much the contest's name beckons you to do it – no nude pics. You can read the whole set of guidelines in the source link below.
The contest started in 3 pm CDT on the 17th of September and ends at 3 pm CDT today, so hurry if you want to get in on a chance to win a new Surface Pro3!