Microsoft gives a tour of the Surface prototype history
10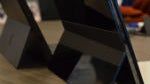 It's always strange to see how the sausage is made. Microsoft took The Verge through the history of the Surface tablet prototypes and all of the work that went into deciding how the device eventually looked and felt. It's incredibly interesting, but we couldn't help wondering while going through the photos, "How could you work so hard, and try so many different things, but still come out with a device that has serious flaws?"
The Surface isn't a bad product; it feels like an
unrealized
product. For example, it's hard to imagine how Google and Asus could have significantly improved the Nexus 7 given the price point and technology available at the time. On the other hand, the Surface is a tablet that works well as a laptop, but feels big, awkward, and not proportioned correctly for use as a tablet.
Still, it's a cool trip through the development process, and how Microsoft used 3D printing to test out different variations on the Touch Cover. Definitely check out the source for all the pics.