Microsoft disses Facebook Home, says the effort is circa Windows Phone in 2011
50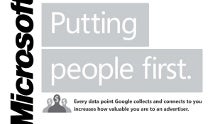 Microsoft's exec Frank X. Shaw took to the company's official blog to comment on the
underwhelming announcement of Facebook Home
, essentially an Android launcher, and
HTC First
, the initial phone that will show up with it, barring the
already leaked ways to sideload it
.
Basically the man says that the people-centric mantra of the Facebook Home presentation reminds him of the Windows Phone interface development process, and an idea that already existed way back in 2011, when WP 7.5 got introduced to the world. Looking at the promo video below, there are some parallels to be drawn.
Moreover, Frank X. Shaw mentions that Facebook is actually adding another layer on top of what is already a ragtag platform he says, instead of fusing social networking, email and phone contacts in a simple People Hub, apparently the way WP is doing it. Here's a money quote from the rant:
So, we understand why Facebook would want to find a way to bring similar functionality to a platform that is sadly lacking it.

But as Android owners know, that platform is complicated enough without adding another skin built around another metaphor, on top of what is already a custom variant of the OS.

So, while we applaud Facebook for working to give some Android owners a taste of what a "people-centric" phone can be like, we'd humbly like to suggest that you get the real thing, and simply upgrade to a Windows Phone.

When you get your Windows Phone, simply log into your Facebook account (along with Twitter, Skype, LinkedIn and Gmail) and pin your best friends and family to your start screen, and we promise you'll be feeling even more at "home".
The whole thing is titled "Welcome to the People Party," and, yes, that's apparently Windows Phone, at least according to Microsoft's exec.