Microsoft adds to its developer stable with Max & the Magic Marker creator
1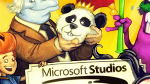 Microsoft has been putting in a lot of money to attract developers to the Windows Phone platform, and now it is putting up even more in order to purchase developer Press Play, in order to bolster Microsoft's first party offerings. If you read our
review of the Windows Phone Marketplace
and its offerings, you'll know that Press Play is the creator of one of our favorite Xbox Live offerings:
Max & the Magic Marker
.
Press Play is based in Copenhagen, Denmark, and is a team of just 8 people, although the website does say that the company is hiring. The company has just two games, the aformentioned
Max & the Magic Marker (M&MM)
, as well as another Windows Phone game called
Tentacles
. M&MM can also be found on a number of other platforms including Mac, PC, Wii, PS3, Nintendo DS, and iPhone. The team is currently working on a tank game, which will be available on Windows Phone and Windows 8.
The terms of the deal weren't disclosed, but the Press Play team expects that this will be especially good by allowing the team to focus completely on making games, and not have to worry about pesky things like money. Of course, this is a win for Microsoft, because it gets a quality game maker, and exclusive rights to those games. And, as Microsoft proved early on (though has forgotten recently) with the Xbox 360: exclusive software brings in users.