Microsoft Surface will be Wi-Fi only at launch: prices to start from $599 for RT, $999 for Pro?
65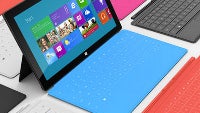 Microsoft's upcoming Surface tablet stirred our minds a couple of days ago when the company from Redmond announced it - a sleek device with an even sleeker keyboard, and the promise of the full Windows experience on the Pro version is something that could be a true competitor to the iPad.
If priced right.
And Microsoft might have just come a bit short on that last if as a source close to the company whispered to The Next Web that the price of the Tegra 3 Surface tablet with Windows 8 RT will
start from $599
, while the Ivy Bridge full Windows 8 Pro tablet will cost the whopping $999 for the most basic version.
And that might be a bit too much for customers used to Apple's $499 pricing for a new iPad at its basic version.
Update:
Bloomberg has learned that the Microsoft Surface will only launch with Wi-Fi on board and no cellular data connectivity option. That's still just a rumor but it's coming from the publication's infamous "people familiar with the matter" and could well turn out to be true.
Now, there's no real surprise here if you listened close to Microsoft Surface general manager Panos Panay who said at the event that the RT Surface tablet will cost as much as similar ARM tablets with 32 and 64 gigs of internal storage. We should also add that Microsoft has chosen a 32GB version as the most basic one for its ARM tablet, and 64GB for Ivy Bridge.
At that same price, though, the iPad smokes the Surface tablet in terms of resolution. The Surface is expected to feature a 1366x768-pixel display, much less than the whopping 2048x1536-pixel screen on Apple's tablet.
And if you compare it with Android tablets, it also seems a bit overpriced. A second-gen Galaxy Tab 10.1 would set you back only $399.
Finally, the Ivy Bridge version of the Surface tablet costs as much as a MacBook Air, the premium notebook king at the moment, which also seems like a pretty solid competitor to Microsoft's slate.
One possible explanation for the hiked prices is that Microsoft is shipping the Surface tablets with the keyboard. But would this convince user to spend the extra bucks? Have your say in the comments below.