MetroPCS is now Metro by T-Mobile; adds Amazon Prime and Google One to data plans
8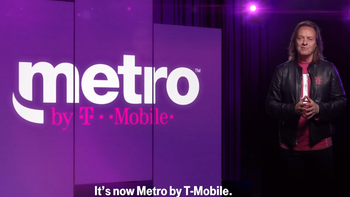 Just over five years ago,
T-Mobile
and MetroPCS merged together. Since then, the pre-paid carrier has more than doubled its customer base. Despite this, T-Mobile CEO John Legere still believes that the perception of consumers is that of a subpar service. Because of this, the number three carrier has announced that it will be rebranding its pre-paid business and updating its plans in the process.
Moving forward, the MetroPCS name will cease to exist and, in its place, will be the new Metro by T-Mobile branding. This is designed to emphasize the fact that Metro customers have access to the exact same network as T-Mobile ones. In regards to the plans, Metro will be introducing a new data plan that kicks off at $50 for one line and increases to $140 for four lines. This will include unlimited data and 5GB of tethered data for tablets or laptops. Additionally, it will include free
Google One storage
. Alongside this plan, a slightly more expensive one that starts at $60 per month for one line and $150 for four also offers unlimited data and Google One. However, it ups the tethered data limit to 15GB and also throws in a free
Amazon
Prime subscription on top.

These two new plans will replace Metro's current $50 and $60 offerings and will be accompanied by some updates to the cheaper plans. Specifically, the existing $40 plan will now offer 10GB of data instead of five. Also, it's understood that some updates to the $30 offering will be made too, although what this entails is yet to be specified.

The new Metro by T-Mobile branding and updated data plans will enter into effect starting October. Thus, those interested in the new offerings will have to wait a week. When it comes to existing customers, these will automatically receive the new perks without needing to make any changes.