Meet Hafid, the iPhone thief who created a photoblog of his crime without even knowing
25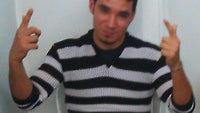 Some phone thieves are crafty, some are scary, some have
perfected stealing to an art
, and some are just clueless about what the stolen phone can do. Hafid falls in the last category.
This story starts as so many others - a group of tourists has fun in Ibiza, partying till dawn until suddenly they decide it's
time to go skinny dipping
. It's a fun dive in the Mediterranean until the tourists go out only to find their clothes and belongings missing. Among the many missing items is an iPhone that belongs to one of the girls.
That's where it gets interesting. The thief obviously enjoys his new iPhone and takes pictures with it all over the place. What he did not notice, though, is that the
device is hooked up to Dropbox
and automatically uploads all photographs to the cloud where the former owner can still see it.
And that is how the
"Life of a stranger who stole my phone"
, aka
"The inspiring story of Hafid from Dubai, the douchebag who stole my phone"
Tumblr came up. Hafid - the thief - is obviously from Dubai and since July 28th he's been snapping all sorts of photographs. By now, the blog has thousands of followers and Hafid has gained a kind of fame he probably can't even suspect. Well, the situation is both sad (for the owner) and hilarious, but we can at least laugh it off looking at the images right below. All of them coming from that malfortunate stolen iPhone.
source:
Life Of A Stranger Who Stole My Phone