Mattebox can teach the camera on your iPhone to do new tricks
0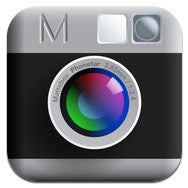 That the camera on the iPhone 4S is pretty impressive is hard to deny. However, some photography enthusiasts would consider it a drawback that it doesn't offer much flexibility when it comes to adjusting its settings manually. That is where third party camera apps come into play, and Mattebox is one that deserves some attention.
What makes the app stand out is that while it can't allow tweaking the camera's ISO speed, exposure time, or focal distance manually, it allows the photographer to lock them at a certain value. It makes that possible with its innovative dual-stage shutter release feature – holding down the shutter locks the settings into place and sliding your finger captures the photo. Once the image has been taken, you can further adjust its exposure, white balance, saturation, or gamma by using the app's built-in controls. You can even save your adjustments as presets, which is kind of like having your own image filter.
"to emphasize available-light photography"
. Those who find potential in Mattebox can grab it from the App Store where it is available in exchange for $3.99.