Masayoshi Son: Sprint and Dish could be allies
4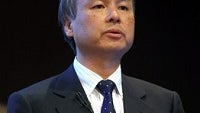 Thursday in San Antonio, Texas, Masayoshi Son, CEO of SoftBank which owns 80% of Sprint, and
fought through a long soap opera type drama
with Dish network to be in that position, addressed media and industry leaders at the Competitive Carriers Association (CCA).
CCA, as one should gather, is an industry association and lobby mechanism for over 100 rural carriers, plus a few manufacturers, Sprint and T-Mobile. In short, just about everyone in the US except for AT&T and Verizon.
We are talking small carriers here, names like Illinois Valley Cellular, serving eight rural counties with a total population of roughly 250,000 people. Then there is Pioneer Cellular, based in Oklahoma with about 60,000 customers. Nemont, also known as Sagebrush Cellular, serves customers in Northeast Montana, North and South Dakota. These are not virtual operators, these "underdogs" in the wireless sector own their own networks, and provide extended coverage through agreements with other smaller carriers as well as the big dogs.
Those big dogs were the focus of Masayoshi Son when he spoke at the CCA conference. He noted that he would like to partner with Dish so they could confront what he called the duopoly of AT&T and Verizon.
"I'd like to partner with Dish in many possible ways. We are specifically discussing all kinds of alliances and starting a test of technology. They can be our great ally."
Son has been trying to
gain traction with the idea that Sprint plus T-Mobile
is not simply the national carrier stage changing from four carriers to three, but the creation of three strong carriers versus two, plus a weak field of everyone else.
Where Dish falls into that equation is up to speculation for now. Sprint's partnership with these rural carriers could bode very well for the nation's number three provider, especially on the legacy network side of things. The overwhelming majority of carriers in the US are CDMA-based 3G/EV-DO networks. Many of the carriers have LTE coverage as well, something Son said Sprint would assist with regards to infrastructure and product rollout.
The proposed arrangement benefits everyone involved, however it may only serve to temporarily satiate Masayoshi Son even though it is well known that regulators have
given a cool reception to the idea of a Sprint and T-Mobile merger
.
source:
Light Reading