Martian introduces its new line of active connected watches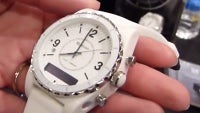 Last year, we reviewed the
Martian Notifier Smartwatch
and it earned positive marks for long battery life, elegant design, and discrete notifications. The trade-off, as so often happens with these types of connected wearables is generally a lack of some features.
This year, Martian has unveiled its Active line of watches. The feature set builds on last year's models by adding a speaker and microphone, so now they can be used for voice commands, and phone calls.
The Active line also offers an evolved style and enhanced functionality with the iOS or Android mobile app used to control how notifications are handled. In addition to determining whether a particular app provides a notification, you can create a combination of how the Martian watch vibrates for each type of notification. Martian Active Collection offers a wide variety of styles, from the rugged looking Envoy, professional looking Aviator, to the stylish all-white Electra.
The Martian Active Collection is available directly from Martian, or in Bloomingdale's department stores. Prices range from $249 to $299.