Map the HTC logo undearneath the display of the One as a menu button
12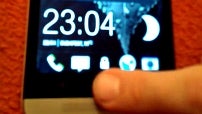 The HTC logo underneath the display of the
HTC One
is part of the capacitive panel that houses the back and home keys flanking the logo, and enterprising devs noticed that the HTC sign also has a place in the touch logs, but didn't seem to be wired up.
Well, the inquiring minds wanted to link the physical possibility that the HTC logo responds to touch with its dormant hardware logs in the Android platform running on the HTC One, and the result was what Borat would say "Great success!". First it was Home2Wake up and running:
Afterwards the menu mapping was achieved, but bear in mind you have to go through the unlocking, rooting and recovery installation process, which you can now do
with a few clicks in the All-in-one tool
, and also your warranty will likely be void with such shenanigans. If that has never stopped you from tinkering with your phone, you just got yourself an extra capacitive key on your spanking new HTC One. Hit the XDA-Devs thread for the installation instruction if you want the results shown in the videobelow.