MEG: RVO hands-on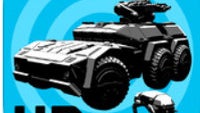 Serious gamers who own an iPad with Retina Display will want to check out MEG: RVO. During PAX East 2014, we managed to check out the game in action with the team from Skunkwerks Kinetic, a Vancouver-based game development company launched back in December 2011. At the booth, we got the chance to play this slick online multiplayer game that combines some action and real time strategy elements that refreshingly departs from the normal flick and pinch touch games we traditionally see focused in mobile.
So the story in MEG: RVO goes like this. The game puts us in control of a remote vehicle operator (RVO) in a rig, which is used to explore alternate worlds in this top-down online multiplayer game. Commissioned by a sinister corporate entity known as Slate Kinetic, we control these RVOs to join in on campaigns and other players to scour the environment for the best strategic locations to earn SKN (pronounced "
skin
"), which permit us to access different arms to improve our mobile rig.
Visually, we have to say that the graphics in this top-down game are pretty slick, meshing quite nicely with the interface and on-screen controls. There are left and right joysticks that allow us to move our rig while simultaneously aiming our turret against different things in the environments. Not only are we able to quickly jump in and navigate, since the control schemes are familiar, but they don't take a whole lot of space to take us away from the action.
No doubt that the game can be fast paced at times, but the more we play and develop our rigs, the more powerful they can become – earning SKN to purchase upgrades and enhancements. Like we said folks, this isn't your traditional touch based game, a departure we're gladly accepting of to attract more serious gamers into the mobile space. Currently, MEG: RVO is available for download for free on the iPad, just as long as it's a Retina Display one running iOS 7.0+.
You can check out the action below to see what it's all about. Just an FYI folks, our microphone was being a bit wonky during the recording, so we apologize if it goes in and out at different times during the recording.