Lunecase for iPhone uses electromagnetic radiation to bring you call and text notifications
12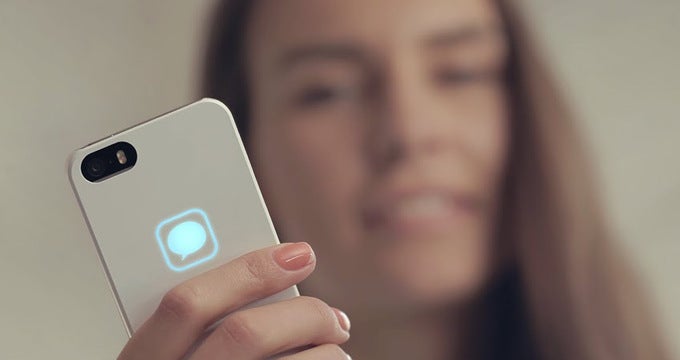 One of the few things that the iPhone lacks is a notification light. Sure, the camera's LED light can be used as one (if enabled from the phone's accessibility settings), but for many, that simply isn't elegant enough of a solution. This is where the Lunecase comes into play. It is a cleverly designed iPhone case with a light on the back that goes off when a call or a text message is incoming.
How does it work? Well, there's no black magic involved even though the accessory needs no batteries, no software, and no wired connection to the iPhone itself. Instead, the Lunecase picks up the faint electromagnetic pulses emitted by the iPhone when it is about to ring. This energy is harnessed to provide the voltage needed for the case's light to activate. What's more, the Lunecase can identify whether it is a call or a text message that you're about to get, hence the individual lights for call and message notifications. By the way, this concept isn't new. Stick-on LEDs for cell phones, which operate in a similar fashion, have been around for well over a decade. Still, this is probably the first time when the principle is applied to an iPhone case.
So how do you get one? Well, you still have plenty of time to back up the project on Kickstarter and get a sweet discount on the Lunecase. Pledging a minimum of $39 gets you a case for the
iPhone 5s
or
iPhone 5
in either black or white. And if the $99 price tag is not an issue, you're free to order an engraved variant of the accessory. If all goes as planned, the Lunecase should ship in August of this year.