Looking for a thrill? AT&T now calls for summer release of the LG Thrill 4G
5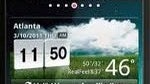 Taking a cue from the HTC EVO 3D, set to launch in a mere two days, AT&T has apparently
moved up
the launch of the 3D enabled LG Thrill 4G. In a press release, the carrier said that no longer is the phone set to be released in the coming months, but is now set for a launch
this summer
-which, coincidentally, started Tuesday.
The LG Thrill 4G has the high-end specs you would expect from a phone of this magnitude. A 1GHz dual-core, dual channel RAM processor (The LG Thrill 4G is the
first smartphone
to offer this) is under the hood while a 4.3 inch LCD display lets you view
glasses-free 3D
. On the back is a dual-lens stereoscopic 5MP camera that not only takes 3D snapshots, but also captures video in 3D for
uploading
to YouTube 3D. 2D video is captured in 1080p at a 30fps rate while 3D action is recorded in 720p at 24 fps. It might seem surprising with a phone like this, but Android 2.2 is loaded onto the handset. A front-facing camera on the device will work well for video chats using Qik, which will be pre-installed on the device.
AT&T notes that
YouTube 3D
is pre-loaded on the device along with some 3D games like
Let's Golf 2
,
Asphalt 6
and
NOVA
. Also available for users of the LG Thrill 4G is the Gameloft 3D Store and 3D movies from mSpot.
Along with the lack of a specific launch date is the lack of pricing information. But with the demand for 3D capable smartphones
growing quickly
, AT&T is hoping to satiate this demand earlier than it might have a few weeks ago, by moving up the launch of the LG Thrill 4G-a smartphone that seems certainly capable of living up to its name.
source:
AT&T
Recommended Stories