Liveblog: Google's Pixel 2 and Pixel 2 XL announcement
23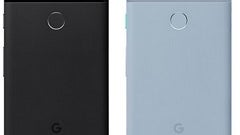 They have not exactly been the best kept secret, but that does not quell our enthusiasm for the new Google Pixel 2 and Pixel 2 XL, Google's second generation of self-branded smartphones running stock Android, and perhaps packing any number of other features that the rest of the Android ecosystem does not yet get to play with.
Exactly one year ago, to the day, indeed to the hour, Google presented the world with its first own brand of smartphone, leaving the Nexus brand behind, and introduced the Pixel. While well-known OEMs were still partnering in the actual manufacturing, their mark was nowhere to be found.
The design was distinct, if not elegant, but performance was outstanding, and the camera lived up to the hype, remaining still one of the best smartphone cameras you can get. We are excited to see what Google has in store for the Pixel 2, the Pixel 2 XL, and certainly some other neat gadgets.
All will be revealed as we will be on-site with Google in San Francisco for the announcement and we will be liveblogging it here. Keep a browser window open just for us!
Google's event is scheduled to begin at 9:00AM PT | 11:00PM CT | 12:00PM ET | 5:00PM GMT!