Live: Motorola announcing first smartphone with Intel CPU
19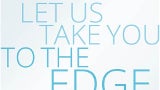 Hey people, now that's something you don't see every day! Although almost every single smartphone nowadays uses an ARM processor, Intel has been preparing to crash the party for quite some time now. It looks like the time for Intel to try its luck in the mobile industry has finally come, as Motorola is gearing up to announce its first smartphone using a chip by Intel itself, at a joint-event with Chipzilla in London today.
There have been
some indications
that the phone we're going to see today will be a specific version of Moto's new mid-range warrior, the
RAZR M
. If that is the case, Intel will not really be making its entrance with a bang. Still, we're excited about this handset, as it'll be extremely interesting to see how it's going to perform versus its ARM-ed competition.
Stay tuned, as the event is starting in just about an hour from now! The event will begin at: 5AM ET | 4AM CT | 2AM PT | 10AM BST | 11AM CET