Little-known Chinese phone vendor says Apple's iPhone 6 may infringe on one of its design patents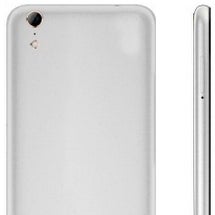 Ever since the first iPhone was launched in 2007, various Chinese companies have been building lookalike handsets, selling them at low prices and making quite a lot of money out of it. Now, in a surprising turn of events, a China-based handset vendor alleges that the design of the
iPhone 6
(released by Apple in the second half of September) "may infringe" on one of its design patents.
The Chinese company that we're talking about is Digione (so it's not a well-known one), while the patent covers the design of an Android-based smartphone sold by the company's 100+ brand for around $130. MacWorld has obtained a copy of the patent application, noting that the patent was granted to Digione in July. The patent is valid only in China and does, indeed, depict a device that resembles the
iPhone 6
. Feature-wise, the device offers a 5.5-inch display, and an octa-core MediaTek processor.
Digione sent a letter to Apple on September 2, when the iPhone 6 hadn't been officially announced (though we all knew what it would look like). The letter simply informed Apple about the possibility of a future patent infringement, inviting the Cupertino company to "communication with goodwill." It doesn't look like Apple responded at all, because Digione recently posted the letter on Weibo (China's leading microblogging website) for a "chance to tell the truth." It's not clear if Digione will sue Apple or not, but we're going to keep an eye on this to see how things evolve.