List of Top 10 downloaded apps in Q1 shows our supercharged smartphones are basically Facebook machines
11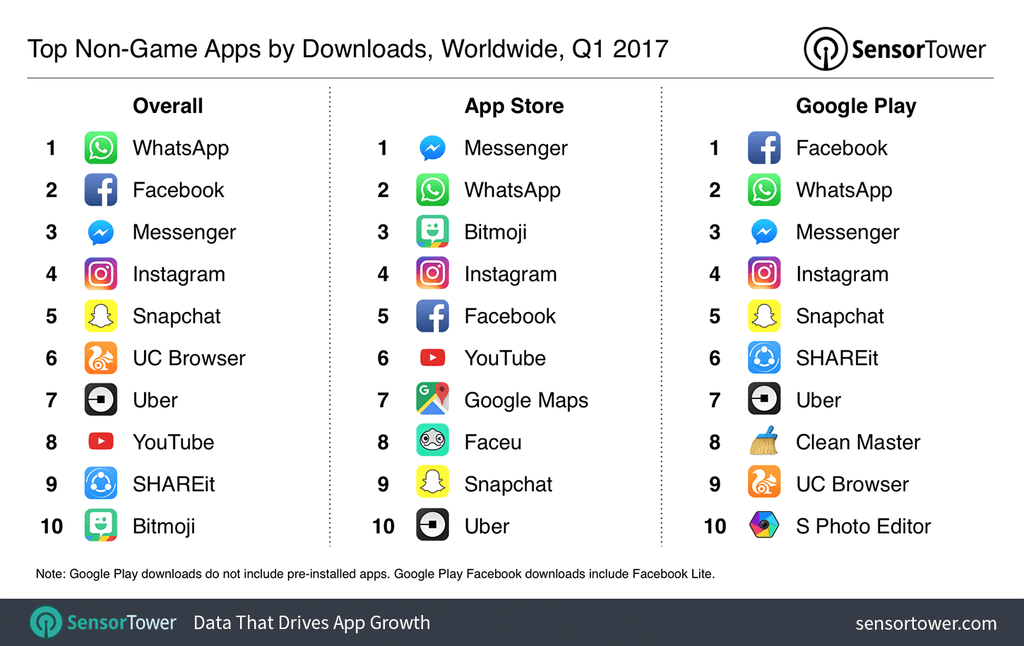 Ever felt like there's too much Facebook in your apps?
The smartphone you are reading this on might not be the latest and greatest model. It could cost $100, or $1000 – doesn't matter. It's guaranteed to be at least several hundred times more powerful than the computer in the Apollo 11 that took mankind to the Moon over 40 years ago. So, how does humanity make the most of this immense computing capacity?
In SensorTower's Top 10 most downloaded apps in Q1 for Google Play and the Apple App Store, the Facebook app is the #1 download on Android; Messenger tops iOS downloads; WhatsApp is the most popular app overall, and Instagram is number four. The most powerful electronic device to ever fit in one's pocket is a glorified Facebook machine.
Is that a problem? Well, smartphones are much more capable than this, and all these ambitious developers pushing increasingly clever algorithms know it. Even if their innovative apps don't get to dethrone Facebook, or ever make it to the Top 10, they can still get tens of millions of installs if they work as promised and aren't boring or redundant. The incredibly, almost
disappointingly
mundane ways in which we use these elegant devices isn't stifling technological progress. So here's a real problem.
For all the flack Facebook gets, its products are disproportionally omnipresent. And for a company that has no clue how to make a
phone
, Facebook sure knows how to take over yours. Mark Zuckerberg successfully conquered reality before it even came down to augmented or
virtual reality
, and he's completely open about his intentions to dominate these – and other emerging mediums – as soon as possible.
A monopoly is only good if you are the monopolist.
Your reluctance to seek potentially better alternatives to Facebook's apps, because everyone else is using them and they are "good enough" is putting way too much power in this person's hands, way too easily. If it's 2023 and you are complaining that your smart oven or whatever came pre-loaded with an obnoxious Facebook for Kitchen app you cannot remove; struggle to find quality VR content outside Facebook or any of the services it bought; you can't play a game you like without logging onto FB first; you can't use
the darn oven
without logging onto FB first, and otherwise feel Zuck'd out on life – hey, guess what, you have only yourself to blame.
Any other interesting, mildly ominous takeaways from the ranks? Apparently, people keep believing
Clean Master
works. UC Browser is still a thing. Apple users are downloading Google Maps instead of using Apple Maps because... honestly, no idea. Snapchat users are bored. And what's a Faceu? It sounds like... nevermind!
ALSO READ