LightSquared's Philip Falcone charged with securities fraud
2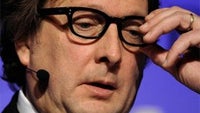 Last we heard about the saga at LightSquared was that Philip Falcone would step down, shortly followed by news that the company was headed toward bankruptcy. While it seemed that things could not possibly get any worse and this venture would go in the history books as a complete failure, the U.S. Securities and Exchange Commission has now charged Philip Falcone and Harbinger with securities fraud.
Filed under "You're doing it wrong," the actual statement that came from the Director of the SEC's Division of Enforcement, Robert Khuzami was, "Today's charges read like the final exam in a graduate school course in how to operate a hedge fund unlawfully."
The SEC specifically claims:
Falcone fraudulently obtained $113.2 million from a hedge fund that he advised and misappropriated the proceeds to pay his personal taxes.
Falcone and two Harbinger investment managers through which Falcone operated manipulated the price and availability of a series of distressed high-yield bonds by engaging in an illegal "short squeeze."
Falcone and Harbinger secretly offered and granted favorable redemption and liquidity rights to certain strategically-important investors in exchange for those investors' consent to restrict redemption rights of other fund investors, and concealed the arrangement from the fund's directors and investors.
Harbinger engaged in illegal trades in connection with the purchase of common stock in three public offerings after having sold the same securities short during a restricted period.
According to the Wall Street Journal, Falcone's lawyer claims the allegations are "without merit and will all be vigorously defended in the courthouse."