Lenovo announces 10" Ice Cream Sandwich tablet, the IdeaTab S2
4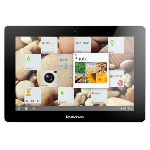 CES has already started rolling, and the first big announcements for mobile hardware are coming from Lenovo, which has rebranded its tablet line and unveiled a new 10" Ice Cream Sandwich tablet. It looks like Lenovo is finally embracing the fact that these devices are called tablets not pads (well, except for that one...) and has rebranded its tablet line IdeaTab instead of IdeaPad.
The Lenovo IdeaTab S2 will have a laptop dock, and look to target consumers that are looking for a tablet with a bit more productivity possibilities. The S2 will be a 10" tablet at around .3" thick (7.6mm) and 1.1 pounds (499g), making it just a bit thinner and lighter than the Transformer Prime. The S2 will be packing a dual-core CPU in the Snapdragon S4 MSM8960 and will be running Android 4.0 Ice Cream Sandwich.
Lenovo also said it will have the Mondrian UI, so no stock Android here. With the laptop dock, Lenovo claims the S2 will get 20 hours of battery, but no word on without. No more details on other specs, pricing or release window.