Lenovo Yoga Book preview: Hey look, it's a tablet with a notepad!
20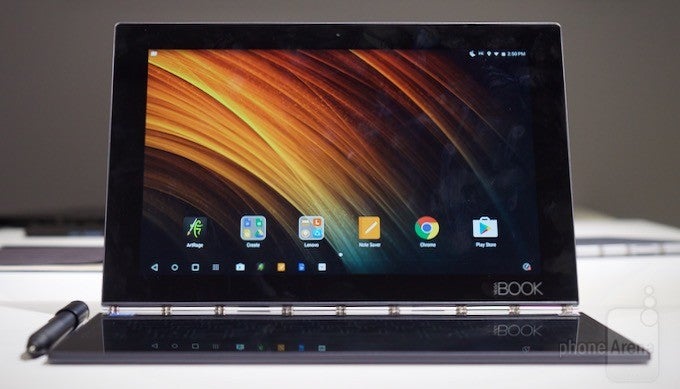 We aren't sure exactly where the line between innovation and 'new for the sake of being new' is, and frankly, the new Lenovo Yoga Book is a device that seems to make these things even more complicated. The Yoga Book is, in essence, a tablet, which also happens to have a bottom portion, a la notebook. However, the bottom part isn't a normal keyboard with buttons; instead, it is a touch panel that can do two things: display a touch keyboard, or act like a graphics tablet that can get input from the stylus that comes bundled with the Yoga Book. Clearly, something's going on here, but whether it's true innovation or just a gimmick, we just don't know yet. We're somewhat confused by this... let's just call it peculiar invention.
CAN YOUR TABLET DO THE DOWNWARD-FACING DOG POSE?
First things first, we have to appreciate the level of engineering that went into the hinge of the Yoga Book. It's the same 'watchband' style hinge that we know from other Yoga devices, but the slim and compact dimensions of the 10.1" Yoga Book meant that it had to be reworked and designed anew, so that it could be both smaller and still strong enough. The hinge of the Yoga Book works very well – it hits just the right balance between stiffness and ease of operation. The screen part stays in whatever angle you set it to, and of course, you can turn it all the way around to end up with something not much thicker than an regular tablet.
That's the thing about the Lenovo Yoga Book – it's incredibly thin, compact and light! It just feels like a very well engineered product. We wouldn't call it a masterpiece, but it's relatively easy to look at.
THE HALO KEYBOARD IS ONE BIG COMPROMISE
So, what's up with this fake keyboard down there? You tell us! Without physically being able to feel the keys, we just can't see much sense in an input solution like this so-called "Halo keyboard". Lenovo says people start getting used to it in about two hours of use, but getting used to or not, it still remains a flat glass surface with no actual buttons to press. We didn't have the chance to use it for that long, but our initial impressions are that while it might not be as bad as having no keyboard at all, it's still a weird form of interface that doesn't make anything to make our lives better. Quite the opposite.
Some say the illuminated Holo keys give the Yoga Book a futuristic appearance, and while this may be true, we can't imagine the Holo keyboard being part of the actual future, as it's more of a step back from the normal keyboard design, than any form of advancement.
DRAWING AND DOODLING ON PAPER, GLASS, EVERYWHERE!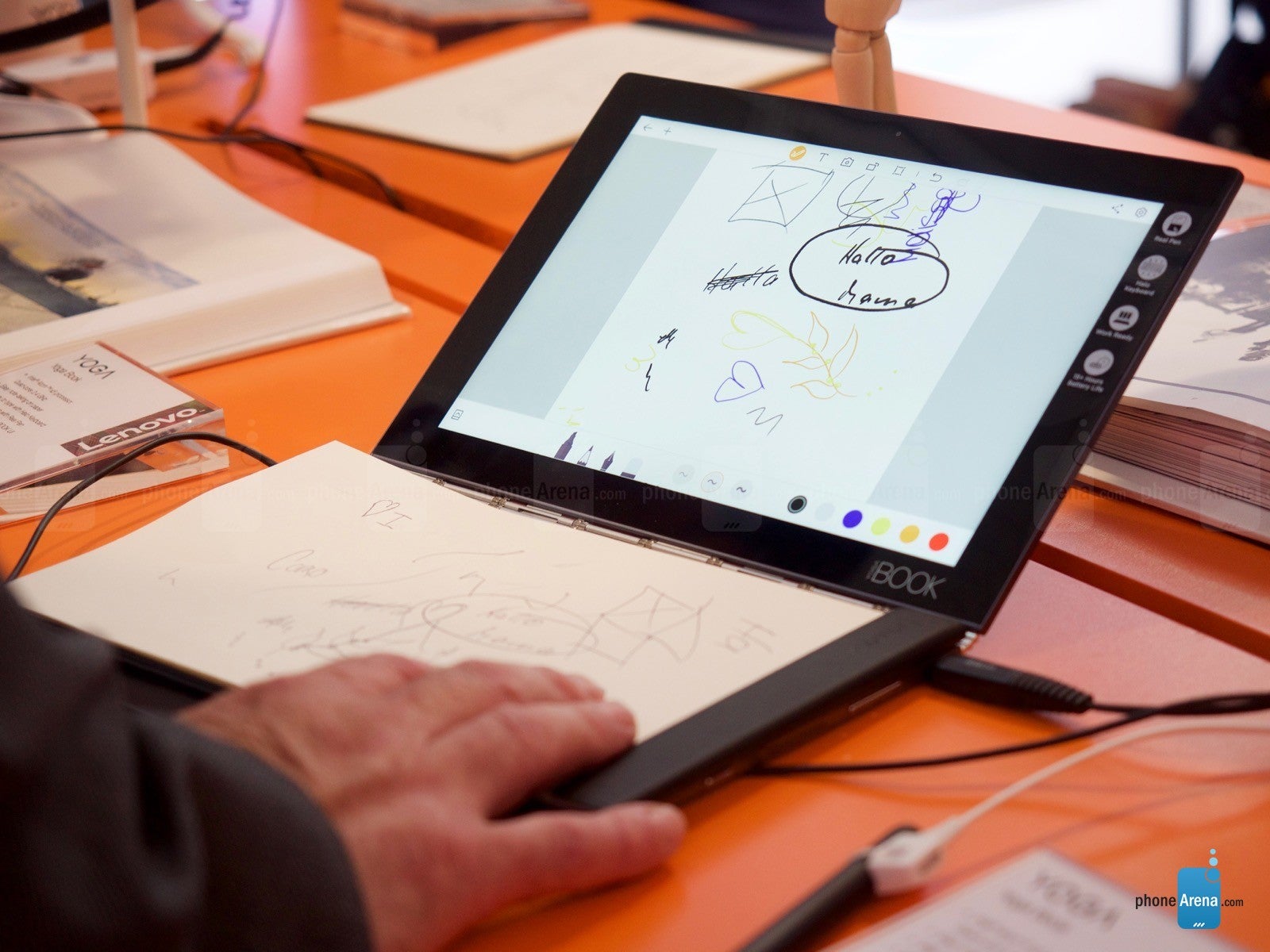 The Yoga Book is conceived to be quite the powerful device for note-taking, and we believe it is! Actually, there doesn't seem to be much else in the Yoga Book that deserves a careful review aside from its note-taking and drawing features. The Book comes with a multi-purpose stylus and a Wacom-powered digitizer inside the keyboard portion. The stylus itself can hold two different types of tips: one is a stylus tip that allows you to write directly on top of the glass surface, with 2048 levels of pressure and 100-degree angle detection. The other tip is a small ink cartridge that's a little bit more special. The thing is the Yoga Book comes with an A5-sized notepad, which you can place directly on top of the touch panel surface (the one which also displays the keyboard). Then you can start writing with real ink on that very same notepad, and guess what – all that you're writing or drawing there will instantly get mirrored on the screen of the Yoga Book – because the digitizer that's in the keyboard portion detects the styluses movement from a distance.
All of this sounds quite neat, if probably a bit convoluted, and in reality, it does work surprisingly well. Input lag seems minimal, response is adequate, and the best thing about it is that you don't need to sacrifice neither the authentic feel of writing on paper, nor the convenience of having your notes stored in digital format. The thing is, though, all of this makes the Yoga Book a fairly niche product. It's definitely not a device for the mass consumer, but rather for the businessperson who does a lot of note-taking, maybe even some drawing/sketching, spreadsheet editing and internet surfing... and, not much else. Armed with an Atom processor and screen of decent but not particularly comfortable 10" size, the Yoga Book is by no means a workhorse. It's a stylish, almost elegant device that proposes a solution to a problem which we aren't really sure exists. And the compromise here is pretty evident: you get no keyboard; no real keyboard, that is, but a touch-sensitive imitation that cannot live up to the convenience and practicality of the real thing.
At $499 for an Android-powered Yoga Book, and $549 for a Windows 10-powered one, this tablet seems very adequately priced for what it offers. Still, for much less money, you could just buy a real notepad and use an app on your phone to scan your notes with.
The Book is a snazzy product, yes, but comes across as a 'proof of concept'-style device, rather than an actual envelope-pushing gadget. It has the wow-factor, but it lacks clear direction. The Yoga Book stands as a testament of how far technology has come – there is quite a bit of hardware innovation here, that's for sure, but there's not enough experience innovation – the big ideas that are supposed to give us pause and make us realize just how much we've been missing out by not having this product so far... are just not there. The Yoga Book tries to solve one big problem, which is "how do we make tablets sexy again?" But we have the feeling that sticking a paper notepad to them won't do the trick.