Lenovo Yoga A12 is a new 2-in-1 Android tablet priced at $299
10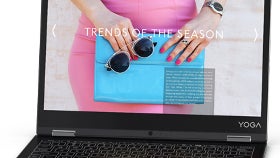 Lenovo just announced a brand new 2-in-1 Android tablet called Yoga A12. Designed to offer "all-day productivity" on a budget, the Yoga A12 is made out of magnesium and aluminum, and sports a 12.2-inch anti-glare display. Lenovo says this is an HD screen, which likely means it's got 720/800 x 1280 pixels (though we'd obviously prefer 1080 x 1920).
The new tablet is 0.21 inches (5.4 mm) thin at its slimmest edge, and weighs a bit under 2.2 lbs (1 kg), so you can easily carry it almost anywhere.
Part of what makes the Yoga A12 thin and light is its Halo Keyboard. Also used on last year's
Lenovo Yoga Book
, this is a flat, touch-sensitive virtual keyboard with haptic feedback, artificial learning software, and built-in prediction. The keyboard is connected to the rest of the device via a 360-degree hinge, so the tablet can adapt to you, offering four usage modes. You can check out the four modes in the images below.
Powered by an Intel Atom x5 CPU, the Lenovo Yoga A12 further features 2 GB of RAM, 32 GB of internal memory, dual speakers with Dolby Atmos technology, and up to 13 hours of battery life on a single charge.
Lenovo doesn't say what version of Android the Yoga A12 is running, but it's touting a "multi-tasking hybrid UI" integrated with Google's Productivity Suite. We should find out more about this once the tablet is released. Speaking of that, the Yoga A12 will be available from February 8 via lenovo.com, in Gunmetal Grey or Rose Gold, for prices starting at $299. Any buyers here?
source: Lenovo