Lenovo IdeaTab K2 hands-on
2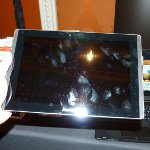 Before diving it, we really need to absorb the kind of majestic wonder that accompanies a tablet featuring a staggering
resolution of 1920 x 1200 pixels
. Got it all in? Well, you're going to need to keep yourself at bay because the
Lenovo IdeaTab K2
, known overseas in China as the LePad K2010, appears to be something out of the future – literally!
Although the unit we checked out wasn't in full running form, our imagination can only think about the stunning detail its
10.1-inch IPS display
is capable of delivering. Nevertheless, we're able to judge its design, which is hardly spectacular over other things. For starters, it takes the cautious approach of boasting a neutral looking design to keep itself in the same light as other recent offerings – without trying to be over the top to match its high-end specs.
Especially impressive on so many levels, this bundle of joy will surely keep us on our toes thanks to the
NVIDIA Tegra 3 quad-core processor it's packing
within is body – and we can again imagine the wicked response it'll deliver. Also, it should prove to be something prized by audio aficionados because it manages to tuck away four speakers, potentially dishing up a robust experience in the audio department.
Despite the fact that we're unable to witness this tablet's potential, we have to tell ourselves to be a bit cautious simply because not everything about this tablet is finalized. Moreover, we're curious to see how Lenovo goes about in pricing this muscle mashing Ice Cream Sandwich powered tablet.