Leaked screenshots hint at UI upgrade for Motorola DROID 2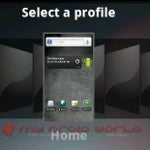 A leaked screenshot gives away a hint that the Motorola DROID 2 is going to have a UI upgrade. Already on the Motorola DROID Pro, it looks like Profiles UI is coming to the DROID 2. This allows the user to select from one of three different themes for his handset: Home, Work and Weekends. A MotoBlur style launcher is also apparently in the works for the Motorola DROID 2.
Another feature that might be coming to the sequel model of Time Magazine's 2009 Gadget of the Year, is Internet Tethering via USB. Even if this does become a feature of the phone, the current wireless tethering option is expected to remain.
The verdict for the new UI is that it is "wicked fast" although Motorola has yet to confirm the veracity of the screenshots. If you want to see what the Profiles UI is all about, check out the video below which shows how it works on the Motorola DROID Pro
source:
MyDroidWorld