Leaked press image hints Samsung Galaxy S III announcement May 22
52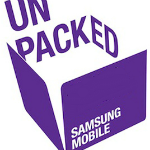 There have been a lot of rumors and fake mockups concerning the Samsung Galaxy S III, and now a new image that has started floating around which may point to the end of all the speculation. If this one is a fake, it's one of the most detailed fakes we've ever seen.
The phone itself looks pretty nice, aside from completely masking Android 4.0 with TouchWiz of course. It looks very slim, with a big screen and small bezel. The home button has made a comeback, which either means Samsung thinks it has the upper hand in Apple's lawsuits, or that Apple won't mind now. The biggest difference between this image and the last one we saw is that this one looks to have capacitive buttons, not Ice Cream Sandwich on-screen function buttons, and there is a dedicated camera button on the side as well.
The internals are still
all rumored
at this point, but no doubt it will have some impressive specs. What are the thoughts on this newest image? It certainly looks more believable than the last, but keeping capacitive buttons seems odd.