Leaked info names the Asus Nexus tablet and adds cred to the Jelly Bean rumor
7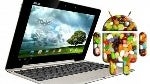 With Google I/O and the presumptive unveiling of the Asus Nexus tablet less than a month away, the news concerning the tablet is coming quicker these days. The newest info comes from a more in depth benchmarking run with the device by RightWare. Last week, we have known for a while that the tablet would be running a Tegra 3, and
last week we heard
that the tablet might have the next version of Android, Jelly Bean, as well.
The new leak seems to add credibility to all of that info. According to the leaked benchmark info, the Asus tablet has been given the model name of the "Nexus 7", although this doesn't necessarily mean much as far as the final product name. Keep in mind that the Galaxy Nexus has the model name "maguro", the Nexus One was "passion", etc. The device also has a display resolution of 768x1280.
The more interesting info is in the software info. According to the info the tablet is running Android 4.1, which is labeled as JRN51B. Based on Google's system naming history, the J stands for Jelly Bean. Given that it is also labeled as Android 4.1, that leads credibility to the old rumor that we had heard which said that Jelly Bean would be a
minor update targeted at tablets
. According to that report, Jelly Bean would also be a dual-boot system that brought the ChromeOS to Android tablets as well, so we'll have to see if that turns out to be true.
Of course, when we first heard that rumor,
we didn't believe it
(or perhaps didn't want to believe it), but it does look like we were wrong to doubt that it would be Jelly Bean, but we were right to doubt that Jelly Bean would be a major update to Android 5.0. If Jelly Bean does turn out to be targeted at tablets, that should quell fears about Google releasing another update while Ice Cream Sandwich still hasn't made it to too many devices, but of course it still won't matter much to those that want to say that the sky is falling with Android.
We'll hold out hope that the upgrade path from Android 4.0 to 4.1 will be much faster and easier than that from Android 2.3 to 4.0, but Google will have to have some persuasive arguments come Google I/O because quite a few people will be concerned about the Jelly Bean release. Because, at the least, it sounds like a bigger update to go from Ice Cream Sandwich to Jelly Bean, than it would if it were just Android 4.0 to 4.1.