Leaked Project Dark material reveals unlimited pay plans and Flex Pay for handsets
This article contains unofficial information.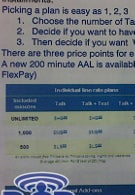 One of BGR's T-Mobile tipsters came through with a treasure trove of Project Dark information and screen shots. Part of this mysterious "game changing" plan is about selling voice service to customers with text and data being considered as add-ons. It looks like there are three levels of minutes available: 500 minutes, 1,000 minutes and Unlimited. You can then pay for Voice, Voice and Text, or Voice, Text and Web. There will be an "Even More" service plan that will require a 2 year contract that will give you the chance to buy a subsidized phone. The "Even More Plus" plan will not have a contract, but the phones will not be offered with a contract price. Instead, this is part of the new FlexPay system where expensive handsets are paid off monthly by the buyer. There is a lot more to Project Dark, including T-Mobile building out its' 3G line, certain handsets that will be coming to the carrier, uniforms for reps, and pricing info. As son as we get the rest of the story, you get the rest of the story.
source:
BGR