Lazaridis increases his stake in BlackBerry to 8%; bid coming?
6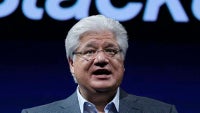 Just when BlackBerry needs to look hard to see if it has a future, it is a name from its past that might be interested in buying the outfit. Co-founder and former co-CEO Mike Lazaridis has increased his stake in BlackBerry to 8% from 5.7% He also has engaged the services of Goldman Sachs and Centerview Partners LLC to discuss his options in relation to the company he steered through its steak and salad days.
While BlackBerry has a $4.7 billion offer from Fairfax Financial to go private, we wouldn't consider Lazaridis as being a white knight or anything close to the calvary. In fact, it can be argued that Lazaridis and co-CEO Jim Balsillie helped put BlackBerry in its current mess by visiting that river called denial once the Apple iPhone was introduced in January 2007. Recently, Lazaridis came clean and admitted that while in public he tended to put down the iPhone while
privately he was in awe of its capabilities
.
A securities filing made by Lazaridis on Thursday suggests that he is considering a bid to buy back the company he helped create under the moniker Research in Motion.
source:
Reuters