Latest iPhone 6 leak shows near-finished back panel in silver and black
19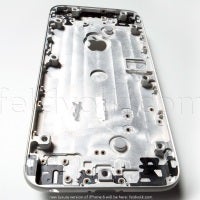 Ready for your daily recommended dose of
iPhone 6 leaks
? From Russia (with love) comes the next clue about Apple's big September reveal. Moscow-based seller of luxury iPhone variants, Feld & Volk, managed to source the upcoming iPhone's rear cover. Allegedly, it came straight out of Apple's supply chain, and there's a pretty decent chance it might be so, as F&V has been getting iPhone parts in advance for a good six years.
The cover looks extremely authentic. It's made entirely out of metal and it looks very thin and sleek. As seen in previous leaks containing the familiar iPhone dummy, the edges are rounded, while the volume rocker and power button are elongated. Notably, the Apple logo is now a cut-out, which might have something to do with wireless charging and NFC. Embedding a durable logo like that of the iPad will let Apple get another radio-transparent area on the iPhone surface, which would improve reception and allow additional connectivity.
It seems the cover is not the finished part, as the camera, mic and flash holes are missing. Additionally, some screw holes and other details will be removed once the part is sent for mass production.
A different source sent out photos of what appears to be the same part, only dressed in black. It appears much darker than the "Space Grey" version of the iPhone 5S. Has Apple's color selection been reduced to just black & silver? It's too early to tell, but given the success of the golden iPhone 5S, odds are good there will be a golden iPhone 6 as well.
Last we heard
, the iPhone 6 with 4.7-inch will be entering mass production any moment, with Apple aiming for the usual September reveal.