Latest Kindle Fire commercial mocks the iPad, reiterates how cheap Kindles are
24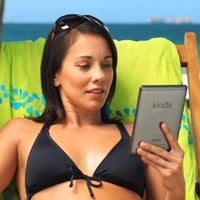 Seeing a company mocking its competitors in an advertisement is something quite common nowadays. Take the latest commercial for the
Amazon Kindle Fire
tablet and the Kindle e-reader for example: a lovely lady is reading an e-book on her Kindle and enjoying the sun at the same time, while the unfortunate
iPad
owner is frustrated with his tablet's outdoor visibility.
However, that is not all. Amazon also points out that the cheapest iPad model retails for $500, which is enough cash to grab two Kindle fire tablets at $200 each and one Kindle e-reader that costs $80. There will even be $20 left to spend on e-books or software.
But enough talking. We have embedded the latest Kindle Fire advertisement below so feel free to check it out. Of course, sharing your thoughts with us in the comments will be greatly appreciated. Does Amazon have a point by suggesting that a Kindle Fire gives you more for less, or is an iPad still superior despite its steeper price tag?