Latest Apple iPhone 7 Plus rumors call for 3GB of RAM, 256GB of internal storage and more
99+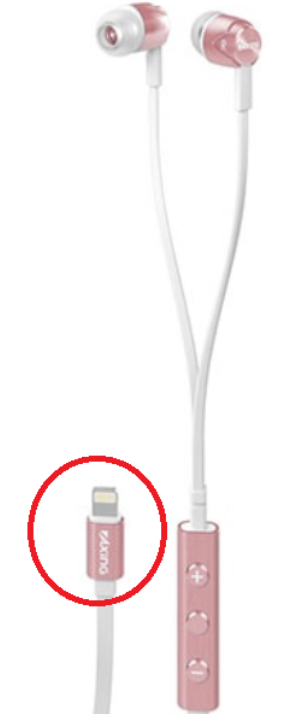 Images of earphones made for the Lightning port have already surfaced
The latest rumored specs for the
Apple iPhone 7
and the
Apple iPhone 7 Plus
come from China's Weibo micro-blogging site. This morning's gossip has the upcoming 5.5-inch phablet carrying 3GB of RAM, up from the 2GB employed on the
Apple iPhone 6s
and the
Apple iPhone 6s Plus
. The smaller Apple iPhone 7 will not get the bump, and will continue to utilize 2GB of RAM.
Another difference between the two models concerns internal storage. The iPhone 7 will be offered with 16GB/64GB/128GB of native memory, while the tiers available for the iPhone 7 Plus will be 32GB/128GB/256GB. The rear camera is another component heavy with speculation. Apple just gave the rear snapper on the Apple iPhone 6s a bump from 8MP to 12MP, and now there is talk of a 21MP snapper for the rear of the iPhone 7. The iPhone 7s, on the other hand, could come with a pair of 12MP shooters on back, with one offering optical zooming capabilities.
One area that iPhone fans would like to see improved in the new models is battery life. One rumor, not supported in any way by leaks we've seen, has Apple employing a Type-C USB Port on the new phones. Frankly, we can't see Apple giving up control of the Lightning port, especially if the 3.5mm earphone jack is removed as expected. We've
already seen earphones leaked with the Lightning plug on the end
. The argument for switching to Type-C is that it would allow Apple to offer fast charging capabilities, but this is not going to happen.
Other Weibo posts mention that Apple plans on improving Wi-Fi connectivity on this year's iPhone models so that the phones can provide faster internet and 4K video streaming. Wireless charging is also mentioned in this cornucopia of speculation. Our advice? All of these things are fun to think about, but for now we suggest taking them with a grain or three of salt.
Thanks for the tip!
via
Mobipicker