LG receives U.S. patents for foldable phones
10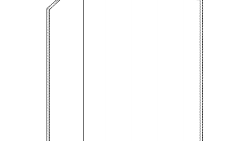 About 10-days ago, we told you that
LG had received a patent for a foldable phone (US D776,074 S)
. Today, the USPTO revealed that LG received two more patents (US D777,131 S, US D777,132 S) related to the foldable phone category. The new patents cover a pair of smartphones that each open up to become a tablet. The images that accompany the new patents don't resemble the sketches that was part of the USPTO documents displayed earlier this month.
Both Samsung and LG are rumored to be launching foldable mobile devices this year.
Unlike Samsung's device, which reportedly folds out
, the LG units that received the two patents apparently fold in. Just keep in mind though, that there is no guarantee that any foldable handsets released by LG or Samsung will end up looking anything like the images that appear in the USPTO documentation.
Other manufacturers, such as Lenovo, are also believed to be working on foldable handsets. But it seems that both Samsung and LG are the closest to getting such a product into the marketplace. The consumer reaction to the first foldable models will probably go a long way in determining whether some of the other smartphone producers decide to enter this category.
source: USPTO (
1
), (
2
) via
TrendyTechz.com