LG one-ups Galaxy S 4 ads, reminds the Optimus G is 'here 4 you now'
58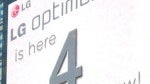 LG has had its notable presence in Times Square for nearly 20 years, and it definitely wasn't happy to see Samsung put its Galaxy S 4 ads right under its own spot. Understandably, it has quickly reacted changing the billboards to upstage the Galaxy S 4 ads.
LG's ads are slightly bigger and in a blow to Samsung remind watchers that unlike the not-yet-launched S 4, the Optimus G is
'here 4 you now.'
LG's billboards are both higher and brighter than Samsung's and LG's second message is also a little jab at Samsung saying
"It'll take more than 4 to equal one LG Optimus G."
Take a look at what that little billboard war looks like now.
source:
Herald Corp