LG may be about to build 4" iPhone 5 and 7.35" iPad screens
25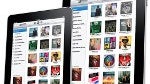 The rumor mill won't be stopping any time soon. A new report has said that LG may soon be building 4" screens for use in the iPhone 5 as well as 7.35" screens for the fabled iPad mini. We told you earlier today that Apple
allegedly scrapped plans
for the larger screened iPhone 5 just weeks before launching the iPhone 4S, but now it seems those plans were just delayed until next year.
According to a Korea Times report, Apple and LG will be meeting soon to discuss plans for a 7.35" iPad. The iPad mini would be part of a $1.1 billion deal which would keep LG as a major supplier of iOS device components through 2016. The insider talking to the Korea Times also said LG would produce 4" screens for an iPhone 5. Although, the report claims said screen would be "retina display" at 960x640, but of course as we've mentioned before, that resolution would not be enough to hit the "retina display" status as the pixels per inch would be below 300.
Until the talks actually happen, and more news leaks out about it, we'll just file this as more Apple rumors. But, with the
demand for the Kindle Fire
, it would seem wise for Apple to put out a cheaper iPad, and the easiest way to cut cost is with a smaller screen.
Recommended Stories